TikTok has taken the world by storm with over one billion users across the globe. It has become a resource for news, social connection, entertainment, education, fashion, and trends. These short videos have opened the world's eyes to so many different things and have created an opportunity for everyday people to express their knowledge and thoughts.
Texas veterinarian Dr. Hunter Finn is one of those people who used TikTok to spread awareness on animal health. He saw a window of opportunity to do this at the beginning of the COVID-19 pandemic when people were quarantined in their homes with their pets. With pet parents unable to visit their local veterinarian, Hunter provided useful information that informed owners on how to take care of their pet without going into the vet clinic.
"The lockdown had just kind of started and my friend told me to check out TikTok. I originally thought I was never going to post, but then I got addicted. I started posting cute animal videos and then overnight, one of them blew up."
The one video Hunter referred to was about dogs not eating chocolate, which caused a heated debate in his comment section amongst TikTok viewers. At first, Hunter thought nothing of it and tried to ignore what was happening on his account, but as the day went on, he thought this would be a valuable teaching lesson. He commented back to explain in depth the dangers of dogs ingesting chocolate and from there continued to make more informative videos.
To make his videos stand out from other veterinarians, he added his own twist – dancing to the latest TikTok music trend.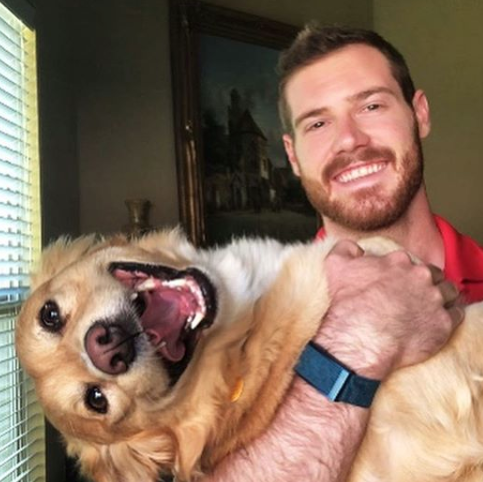 "Honestly, I'm a horrible dancer. The reason that I started doing this was to catch people's attention. When you start adding information to the dances people are like 'what is this?' and think it's weird, but they're interested. By the end of the video, they're learning something and they either think it's funny or really cool and informative."
The Texas veterinarian began these videos in March of 2020 and now in December of 2021 he's reached over two million followers and 45 million video likes on TikTok. Even with his early success, Hunter didn't realize how valuable his advice was to his TikTok following until he started getting a large amount of messages from pet parents who lived out-of-state or in other parts of the world.
"At first I didn't tell anyone that I worked with about my TikTok account, but my co-workers quickly found me because TikTok throws videos around to people in your area. People started calling up my work asking to see the 'TikTok vet' and I was mortified."
Hunter has an approachable personality that makes pet parents feel comfortable with the information he presents them with. He explains everything so that people with no medical background or no pet parenting experience understand the important steps in keeping their pet healthy and happy. 
"I started to realize I was making a difference when people would message me saying they went to their vet because they saw signs of what I was talking about in my videos. I would message them back to ask their vet what they thought about different things and to run certain tests."
In some situations,Hunter's videos saved their pets' lives with vets finding things like hyperthyroidism, diabetes, and other underlying diseases. Even if it's just helping one or two animals, Hunter finds joy in knowing that he was able to make a positive impact on an animal's life.
In the end, Hunter wants to use TikTok and his knowledge to the best of his ability and help as many people as he can, especially those who don't have the ability to see their local veterinarian as often as they'd like.
"If I can help people prevent things from happening, or maybe catch something early, then it's all worth it."
Hunter continuously wants to do more for animals across the world, so he's partnered with CUDDLY to help animals in critical condition in shelters and rescues. Be sure to check out his TikTok @dr.hunterfinn to see his sweet dance moves and to learn more about your furry friends.  
Meet other animal lovers:
Rocky Kanaka on Saving Shelters and Helping Animals